---
Guangzhou-Beijing-Los Angeles/New York-Beijing-Hangzhou: The total price of the round-trip tax is about RMB 3,600. Looks like a low-cost airline in Norway. The flight was carried by Air China. And can also accumulate 13000 + Air China mileage. In fact, I did not apply for a visa when I bought the ticket. But face such a tempting price. Impulse, of course, I will not let go. The day I bought the ticket was just 11.25. Just be a birthday present for yourself. About special fares. My opinion is to pay more attention to public microblogs and WeChat, including "E Travel Network" and "Bai Cai Price Global Travel JourneyCA". A variety of special ticket hotel information for almost every day. Pay more attention to the way other friends are buying special fares. In fact, modern transportation is well-connected and the aviation industry is mature. The transportation cost of travel can be greatly reduced. The key is to see your ability to get information. Of course, there is another point that is decisive. Special fares are available in real time. But often it is small, first come first served. When you are hesitating. Maybe someone else has already gotten the first place. So if you want to go to a place. Please be ready to go.
(Note: 1. You need to fill in the US address when you board the boarding pass. We fill in the home of the Los Angeles landlord. You can fill in the hotel address of the hotel. 2. Have you successfully obtained the US visa and US Customs to let you enter? There are two concepts. The questions we asked when we entered the country were similar to those we asked when we signed.)
Los Angeles-San Francisco: Southwest Airlines 59 Knives Southwest Airlines is very good at shipping two pieces of luggage for free. Can save a lot of baggage fees. There are free drinks and snacks on the plane. And you can change it for free. We decided to stay in Los Angeles for a day because we decided to go to the banker's live recording. The ticket was changed to the next day and only the difference of $5 was made.
San Francisco-New York: JetBlue JetBlue can check in one piece of luggage for free. The seats are more spacious. Mr. Huang, the company's long legs, feels more comfortable. Because it is a ticket that is booked one week before departure. So the price is not very low. There are free snacks on the plane.
Accommodation articles
Los Angeles:
An old house built in 1906. Location is on Eastlake Avenue. Very close to the bus stop. Walk for about three minutes. Regarding the traffic problem, I would like to reply to us with the landlord Terasa. LA is a car city. No matter where you live in the city. If you don't have a car. After all, it is not convenient. This trip to LA also made us deeply feel this. So I suggest going to LA's friends. If you have the conditions, it is better to drive by yourself. Entertaining us is Teresa's host Nassim. Nassim lives in a room on the second floor of the bathroom. There are two rooms near the balcony. In addition to us, the other lived a musician. Mr. Huang talked to him when he got up early to prepare breakfast. Canadian. In order to write songs to Los Angeles for a while. honestly. This homestay in Los Angeles is really a big surprise. The whole house has a sense of history. But the rooms and public areas are very clean. A green exterior with a colorful interior. Seen from the window of our room, you can see the night view of downtown Los Angeles. Sleep until you wake up naturally and then sit on a small chair on the balcony and enjoy the warm sunshine of Southern California in the winter. = =. Tears collapsed. I feel very much nostalgic when I write and write. All the equipment in the kitchen can be used by yourself, as long as you use it, remember to clean it and put it back in place. Nassim is also very nice to teach us to make coffee.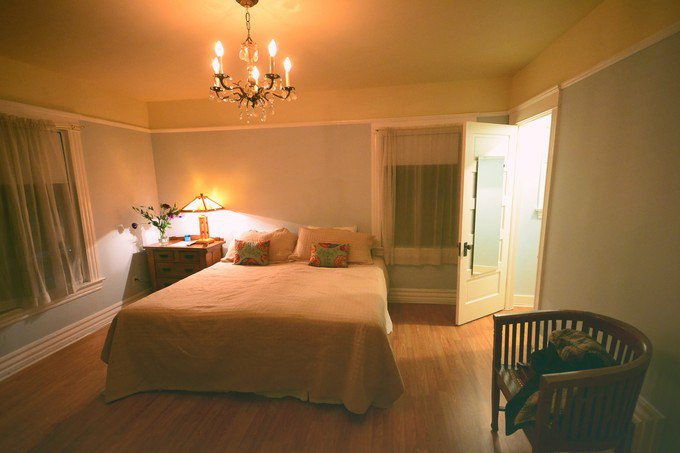 San Francisco:
Park hotel 2.12-2.15 a total of 3 nights including 292 knives. This is due to the delay in communication between the two parties due to the previous computer operation problem in the San Francisco landlord. We thought she left the house to another tenant. So it was temporarily booked at the Los Angeles airport when it was ready to take off. (Although I finally got through the landlord's phone misunderstanding, but because the hotel is going to stay on the same day, the hotel can't be refunded.) Although the price is not very low, the overall price/performance ratio and the household experience are quite good. First of all, the traffic is invincible. It is walking distance to the subway, cable car and Union Square. Surrounding shopping malls, convenience stores, and restaurants are also available. For tourists who don't have a car, it's the best choice. The facade of the hotel is very small. But the overall feeling is very refined and retro. It feels a bit like old Hong Kong. The reception staff was very Nice. Originally we booked a double standard room in a public bathroom. He helped us upgrade to a double room with a bathroom. Later, in order to thank him, he gave him a taste of the tea we brought. (Insert it. In fact, it is quite good to go abroad for a bit of tea. You can drink it. You can also make a gift.) The room size is quite small. But it's really complete. There is a big window. Good ventilation. Inside bed/bedside table/full body mirror/TV/desk/closet/bathroom complete. Very clean, and the color scheme is very warm. The coolest thing is the elevator of the hotel. The elevator door needs to be manually opened. But to tell the truth is quite heavy. On Valentine's Day, Mr. Huang went out to buy breakfast and climbed up the fifth floor. Said that there is no hand to open the elevator door. Laugh ==. The hotel has a communal kitchen with hot water. You can also store your luggage for free.